Chinese mortar spraying machine applications are mainly used in the construction industry, internal and external wall plaster and spray mortar, external wall insulation mortar spraying, materials can be mortar blanks, refractory coatings, large buildings sprayed fire-resistant materials, waterproof coatings and soon. In the construction industry, the mortar spraying machine is used for horizontal and vertical transport and spraying of mortar or cement. In road pavement maintenance, it is used to fill mud with road surface collapse pressure. In water conservancy projects, it is used for dam reinforcement.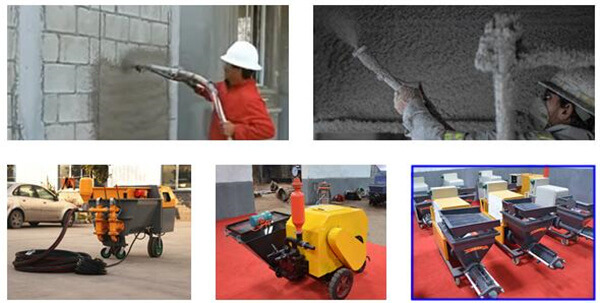 High-pressure mortar spraying machine
Chinese is a piston pump-type high-pressure mortar sprayer, advanced technology, simple operation and maintenance, no special training can be skilled operation. Leadcrete high-pressure mortar spraying machine made in China applicable spraying materials include: putty powder, paint, latex paint, varnish, cement mortar, dry powder mortar, insulation, waterproof materials, fireproofing materials, insulation materials, sound absorption materials and other water-soluble materials.
We offer China mortar spraying machine for pumping and spraying mortar and cement mixtures. Unique, easy-to-operate and powerful, low loading height and special hopper shape make it very practical and easy to use. There are two different models to choose from, one is electric and the other is diesel power. The mortar spraying pump is widely praised for its smooth operation. The mortar spraying machine can be customized to the customer's specifications. To ensure superior performance and economical operating costs.
This Chinese rapid
mortar spraying machine
is widely used in indoor and outdoor ceiling roof coating, leakage, sedimentation seam leakage, underground tunnel leakage, mine leak, human defense engineering blocking, dam leakage, floor, cracks, air drum reinforcement, cement mortar spraying, mortar spraying, waterproof grout, waterproof surface coating, waterproof paint, filling, ceiling painting, wall flour brush, paint spray, paint spray, painting, painting, etc. Extreme reliability and robustness are the main features of the pump, making it ideal for any type of civil and industrial construction work.