High-pressure grout machines are widely used in the construction, drilling, tunneling and mining industries to pump cement-based bentonite and other mud.
Low-temperature electric
high pressure grout pumps
can operate continuously for 24 hours. Convenient maintenance, with a high cost-effective, suitable for dams, tunnels, rear sheets, high-pressure rotary injection slurry, curtain injection slurry, soil containment, mine blocking underground mining and many heavy construction operations and other grout projects.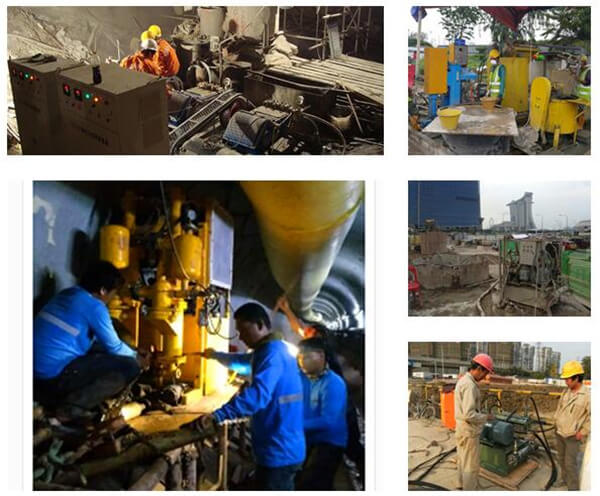 The main features of the high pressure grout machine:
1. Advanced artificial intelligence control: instantaneous flow display and cumulative capabilities for pressure digital display and control.
2. Long working time: The hydraulic end uses a new plunger lubrication structure. The new seals greatly extend the service life and are easy to replace.
3.Variable frequency speed control: no mechanical transmission, clutch and other multi-fault transmission components, so that the pump size is smaller, light weight. Our grout machine for sale is compact and reliable.
4. Simple "stupid" with display: electrical control circuits are simple and reliable. The simple operator panel ensures that all workers are easily accessible. Built-in powerful running display to set and display operating parameters.
5. Perfect protection function: comprehensive protection control for power loss, phase loss, overpressure, undervoltage, overcurrent, torque, pump pressure, etc.
6. Container type protection system: easy to transport
For more information on the high-quality and user-friendly high pressure grout machine, please email us at sales@leadcrete.com
Q: How can I ensure machine quality and timely service?
A: Each high pressure grout machine has its factory certificate and serial number, all machines should be tested;
At the same time, we recommend that customers prepare sufficient spare parts. All customers will receive our services within 24 hours.
Q: Your price is higher, can you give me a discount?
A: All business prices of the Company can be negotiated, but the final price should be based on high-quality machines and honest negotiation.
Q: What are your payment terms? Can you arrange a delivery service?
A: We can accept T/T, Irrevocable Letters of Credit, Western Union and other common payments. Yes, we can help book a ship to transport the goods to the port of destination.
Q: If we have a technical problem, how can you help us resolve it?
A: We have a dedicated team to deal with this problem; first, we'll make a video call to check what's wrong, second, we'll guide you to fix/replace the damaged part, and third time we'll share how to avoid similar problems.