Bentonite grout mixer
Lead Equipment sells high shear bentonite grout mixers that make mixing efficient and profitable for owners. Cement, water, bentonite, additives, and other materials are sucked by a high-speed impeller pump, and the pump speed is 1500rpm to prevent flocculation and achieve complete wetting. The mixing time is only 2-3 minutes, which saves time and cost. Compared with the paddle mixer, the high-shear electric bentonite grout mixer improves the apparent fluidity of the slurry by 20%, which has important advantages for grouting dams, rocks, and soils.This bentonite grout mixer is a high-working efficiency cement grout mixer for mixing/mixing cement and water. It consists of two separate tanks – a mixing tank and a mixing tank, which is more convenient to transport.
Used in conjunction with the grouting pump, bentonite grout mixer can be used for pressure grouting in mines, tunnels, culverts, subways, hydropower projects, underground excavation projects, etc.
Content
The main feature of our bentonite grout mixer:
High mixing efficiency, the motor directly drives the impeller to obtain high-speed liquid flow, and one mixing can be completed in about 2~3 minutes;
High reliability, the motor is installed vertically or horizontally, the failure rate is low, and the sealing performance is good;
The wearing parts of the control valve are made of ordinary rubber pipes, which is convenient for the construction site.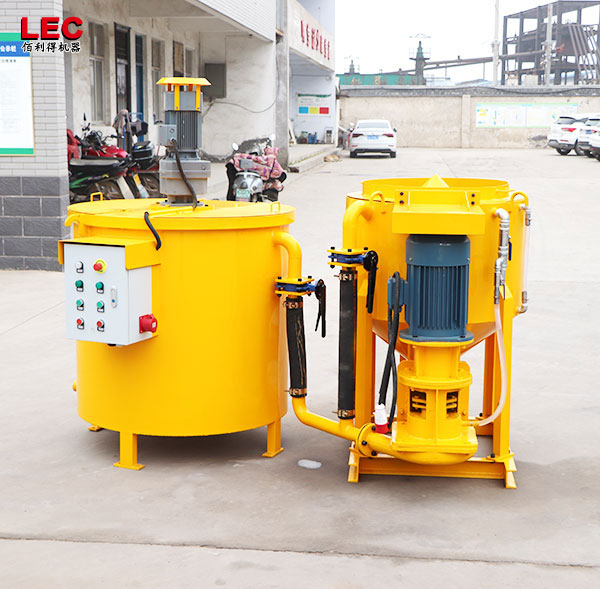 Advantages of our bentonite grout mixer:
The tank body is made of thickened plate, which is more reliable and has a longer service life;
The overall stamping structure of the tank bottom;
Special welding treatment;
IP55 100% brand new motor;
Electrical control boxes made of thicker plates and standard Schneider Electric components;
Specially designed pump seal structure;
After sandblasting, and painting, the appearance is beautiful.
More Grout Mixer